IR-1/CR-1 Visa - Green Card For Married Partners
If you are married to a U.S. citizen, you can apply for a green card (a permanent residence permit). The spouse of a green card holder may also apply for one. This also applies to same-sex couples insofar as they have entered into a union that is equivalent to marriage.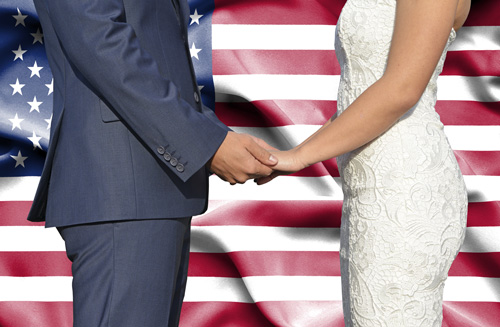 Contents on this page:
Limited number of green cards
While an unlimited number of green cards are available for spouses of a U.S. citizen, green cards for spouses of a green card holder are limited, i.e. only a limited number are issued each year. Because more applications or petitions are usually filed than there are green cards available, the excess applicants are placed on a waiting list. The current waiting period was approximately twenty-two months as of May 2019. In other words, applications that were submitted before July 2017 were processed in May 2019. Currently (October 2020), there are no waiting periods. However, it is quite possible that a petition is submitted at a time when there were no waiting periods, but that such periods then occur during the course of the processing. For some applicants (e.g. Chinese nationals), other, often even longer, waiting periods apply. These waiting periods are updated every month in the so-called Visa Bulletin and can be viewed there.
In the following, we would like to give you a brief, general overview of the multi-step procedure for obtaining such a green card (United States Permanent Resident Card, I-551).
In the first step, the spouse in the USA (U.S. citizen or green card holder) must file a petition with the U.S. Citizenship and Immigration Services (USCIS). This consists of, among other things, various forms (e.g., I-130, I-130A), proofs of U.S. citizenship (or lawful permanent resident status) of the spouse and the marriage certificate.
The option to file the petition with the USCIS in Frankfurt if the U.S. spouse lives in Germany has been terminated, and the USCIS branch office has been closed. However, if special requirements are met, it is still possible to file the petition at the U.S. Consulate in Frankfurt (direct consular filing), and thereby bypass the USCIS in the USA with its generally long processing times. However, this option is not available to green card holders; they must file the petition with USCIS in each case.
Step 2: Application for IR-1 or CR-1 immigrant visa
If the USCIS (or the U.S. Consulate in Frankfurt) approves the petition, the U.S. spouse will be notified. The second step is to apply for a U.S. immigrant visa at the U.S. Consulate in Frankfurt. This application also consists of various forms (e.g. online form DS-260), proofs of the financial situation of the U.S. spouse and, if applicable, of the applicant (including form I-864), a current certificate of good conduct and other accompanying documents. The applicant must appear in person at the consulate and first undergo a medical examination, the results of which (medical report) are forwarded directly to the consulate by the doctor.
Step 3: Entry into the USA
If the USA visa is granted, the applicant will receive a sealed envelope. He/She is not permitted to open it; he/she must hand it over to the border official when he/she travels to the USA. In addition, an immigrant visa (visa foil) is affixed to the passport.
The U.S. visa is valid for six months. The applicant should travel to the USA within this period. Before entering the country, however, the future greencard holder must pay an additional fee: the USCIS immigrant fee. This fee is for the actual production of the green card which will automatically be sent to the U.S. address provided on the forms after entry, but this can take several weeks to months.
Upon entry, the U.S. border agent should stamp the passport with a Lawful Permanent Resident stamp (the I-551 stamp). Within a certain period of time (generally for one year after receipt), this stamp then entitles you to permanent residence in the USA, is considered a work permit, entitles you to the receipt of a social security number and allows you to enter and exit the country even if you do not yet have a physical greencard in your hands.
Official fees for the IR-1/CR-1 green card
Fee for the I-130 petition: 535 USD
Immigrant visa fee: 325 USD
Green card fee (USCIS immigrant fee): 220 USD
The terms of payment should always be checked in advance on the basis of the individual case as in some cases personal checks are accepted while in others bank checks are required. The USCIS immigrant fee can currently only be paid online.
(as of October 2020)
Advice for the IR-1/CR-1 green card
Notify the USCIS of address changes

If you move after you enter the country and before you receive your greencard, you must notify the USCIS of the change of address (Form AR-11) so that your green card is not sent to the wrong address. However, as a foreign national, you are required to notify the USCIS of any change of residence even after you receive your green card.
Validity of the physical green card

As with a passport, for example, the green card has a validity date which is generally ten years. An expired green card, however, does not automatically mean that you will no longer be admitted to the USA if your primary place of residence is in the USA, i.e. you will not lose your status as a lawful permanent resident simply because your green card has expired.
Removal of Conditions

If the marriage has been in existence for less than two years at the time the green card is issued (not when the petition or visa application is filed), the validity period of the greencard will be limited to two years. The green card holder is then a so-called conditional permanent resident (and has previously applied for a so-called CR-1 immigrant visa). A new application must then be filed 90 days before the expiration of the time limitation in order to remove the time limitation (Removal of Conditions, Form I-751).
Longer stays outside the USA

A lawful permanent resident is required to center his or her life in the United States. The more time he/she spends outside the U.S., the more likely he/she will encounter difficulties upon entry. For example, stays abroad of six months or more - whether in one period or in total over the year - may lead to closer questioning by the border official upon re-entry. This, however, depends on the overall circumstances - where do you work, where does the family live, etc.? - as to whether the border official considers that you have relinquished your status as a lawful permanent resident. Depending on the individual case, it is even possible that your status as a lawful permanent residentwill be revoked.

If your stay abroad lasted one year or longer, you generally need a returning resident visa (SB-1 visa) for re-entry to the country if you did not apply for a re-entry permit before leaving the USA. Longer stays outside the USA also make it more difficult to apply for U.S. citizenship because you may not be able to prove the continuous residence required for naturalization.

To obtain a returning resident visa, you must demonstrate to the consulate that you never intended to give up your primary residence in the USA and that the stay abroad of one year or more was due to force majeure, such as an extended hospitalization and the like. If you are planning a longer stay abroad of several months, it is always advisable to apply for a re-entry permit (Form I-131) before leaving the country. You can then stay abroad for up to two years without any potential problems arising upon your return.
Application for U.S. citizenship

After three years in the USA and the fulfillment of other requirements (including good moral character and at least 18 months of physical presence), green card holders married to a U.S. citizen may apply for U.S. citizenship. In this, longer stays abroad can also lead to problems or to increased obligations to provide evidence on the part of the applicant, particularly in the case of stays abroad of a period between six months and one year. It should be noted, of course, that German citizens must obtain a German retention permit (Beibehaltungsgenehmigung) before naturalization in the USA so as to not lose their German citizenship. Whether you are applying for U.S. citizenship or applying to retain your German citizenship, we can provide you with comprehensive advice and assistance through our attorneys licensed in Germany and the United States.
Our experts on U.S. visa law provide advice on the IR-1-/CR-1 visa
If we can help you with your IR-1 or CR-1 visa application, please contact us - either by e-mail (info@visum-usa.com) or by telephone (+49 69 76 75 77 80). We will be happy to arrange a telephone or personal appointment - by video conference if you wish - for an initial legal consultation with our attorneys. Subsequently, we will also take over the execution of the necessary application procedure for you.
Fields marked with * are mandatory.